CHHS Seniors applied and received a STEM -E Groups Unite Entrepreneurial Grant; their goal was to produce a product that would help them earn enough money for a Senior Trip.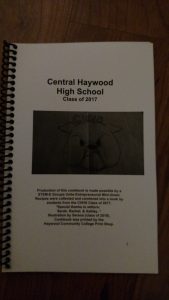 Senior Cookbooks are available for purchase from any senior for only $10.  Recipes were contributed by CHHS seniors and CHHS staff.  Their goal is to sell 65 cookbooks in order to raise enough money to take a Senior Day Trip to Fun Depot and to make a charitable contribution in our community.
See any CHHS Senior if you would like to make a purchase!