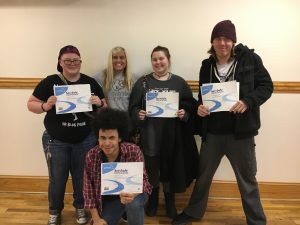 Congratulations to Taylor, Serena, Chase, Josiah, and Ms. Brown!
These students completed and earned a passing score on the very challenging ServSafe exam, which provides students with a credential that will make them more employable in a number of food preparation and food service positions.
According to the National Restaurant Association, "ServSafe training and certification is recognized by more federal, state and local jurisdictions than any other food safety certification."  We are so proud of Ms. Brown and her students attaining this valuable and meaningful credential.
Learn more about ServSafe at
http://www.restaurant.org/Restaurant-Careers/Training-Education/ServSafe
https://www.servsafe.com/students