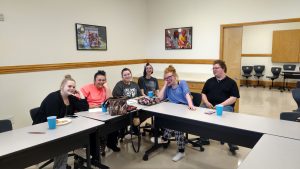 11th graders all over North Carolina will be taking advantage of the opportunity to take the ACT the first two weeks of March.  This test (which usually costs students over $50) is currently funded by the state during a special state administration to all NC juniors.
The test consists of 5 parts:  multiple choice English (grammar, mechanics, punctuation, etc.), multiple choice math, multiple choice reading, multiple choice science, and an essay.  All parts are timed and are designed to measure students' mastery of high school curriculum and college readiness. Scores are often used by two-year schools for academic placement, by four-year schools for admissions decisions, and by scholarship agencies for competitive decisions.
Our students have worked hard, and they were rewarded with a pizza lunch on Wednesday.
Way to go, Juniors!